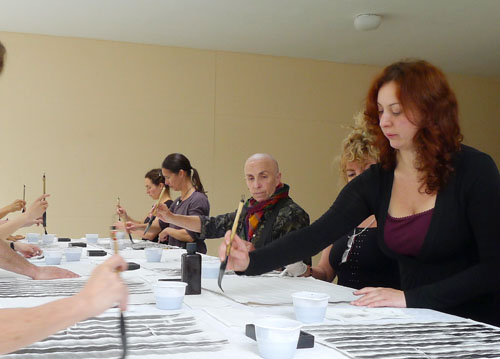 In 2002 I graduated at the Fine Art Academy in Rome, Department of Painting. My practical work concerns painting, etching and photography.
I am based in Amsterdam since 2006; here I took courses in photography at Crea and Fotogram.
Since a few years my interest exclusively concerns Zen painting. I have been trained in sumi-e (Japanese ink painting) from the Zen monk and Sumi- e Master Beppe Mokuza Signoritti. He proposed to me in 2010 to offer his teaching also in Holland and so began my teaching endeavour.
Teaching is a wonderful experience which allows me to get in touch with many different people and discover their personalities. By seeing them paint I recognize my own artistic path and together we improve.
During the time at the academy my paintings were mainly abstract; I made circle shapes and vertical lines. My painting always has been quick, without touch ups and on paper.
My interest in Zen painting started when I saw similarities with my way of painting. Some of the shapes I painted already looked like Zen circles and bamboos. These forms are primordial figures which every one of us carries somewhere inside; we just have to find the right technique to express them and Zen painting turns out to be ideally suited for that.